Welcome
Whether you have symptomatic varicose veins or unsightly facial capillaries, we are committed to your needs. We will work with you to determine a course of action, and getting your vein care addressed. Your health is too important to leave to someone not specialized in venous disease.
Here at SDVI, our doctors perform all aspects of your treatment and care. Many other medical centers have technicians that perform various tasks such as Ultrasound tests. We feel that your comfort and safety should be in the hands of a highly trained doctor and not their assistants. Therefore, when getting a varicose vein treatment, the doctor will be performing the ultrasound test as well.
Open 6 days/week
Monday-Friday 9:30am-5:00pm
Saturday by appointments only.
Our Address
336 Encinitas Blvd., Suite 130
Encinitas, CA 92024
Channel 6- San Diego Living TV program
Dr. Cheng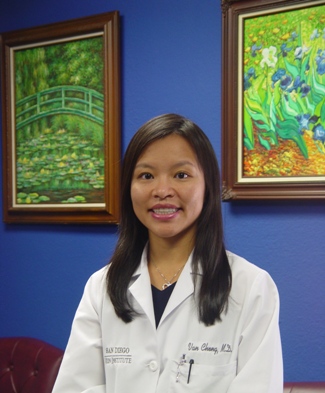 SDVI is proud to announce
that our Medical Director
has been asked to write
a weekly column to share
her knowledge and expertise.
Click here for this week's article
about the Six Myths people have
concerning Varicose Veins in the
La Jolla Light Newspaper.

Contact Us
For Information or Appointment